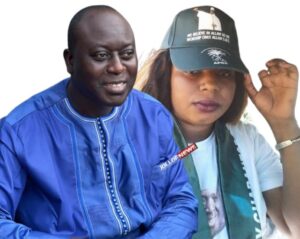 The proprietress of PYFC TV has hinted that ex-minister of information Ebrima Sillah has been waging 'love and financial' jihad' against her to influence the editorial policy of the medium.
The former information minister now moved to the transport ministry was said to have succeeded where the First Lady failed through his use of soft power of love and money.
PYFC TV proprietress, Manyima Bojang, claimed that Hon. Sillah was his fiance and considering the good things that he did for her media outlet, she had no choice but to bow down to his pressures.
"Ebrima gave me D150,000 so that we can set up our studio. He also gave us cameras. So, if he had been persistently asking me to soften our editorial stance, I should oblige. Ebrima is my fiance and that's the least I could do for him," Ms. Bojang better known as Nyimsi B told one of her employees as she requested from her the nude pictures and videos she claimed to have sent the transport minister.
According to her, people used to send snapshots of some of PYFC TV's stories to the First Lady and she was not amused by them.
She indicated that the First Lady had wanted her to be more supportive to her husband.
"But I had always insisted that I will never compromise our editorial stance. But Ebrima is my fiance. He invested a lot in PYFC TV. So, I had to reciprocate," PYFC TV proprietress claimed.
Meanwhile, Hon. Sillah has yet to react to our request for comment (s).