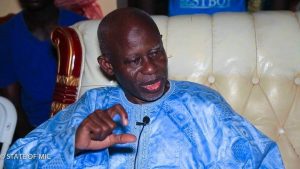 The Secretary General of the Gambia's main opposition UDP has announced the death today of one of the party's long-standing members Kebba Dye Jammeh.
Hon. Ousainu Darboe meanwhile paid glowing tribute to the late Kebba Dye Jammeh, describing him as an epitome and personification of integrity.
"Kebba Dye Jammeh, our anchor in Illiasa constituency, has departed this world for good. He was in the forefront of the struggle since 1996 and the de facto leader of the party in Upper Badibu and Sabach Sanjal," the UDP leader said.
Lawyer Darboe remembered how he, Shyngle Nyassi and any other UDP member on mission in Upper Baddibu were being accommodated in Jammeh's 'humble house' as he acknowledged his generosity of spirit.
He added:"When the going was tough, he was there for UDP. He placed party interest above his personal interest.
"I have not only lost a devoted and committed colleague and political ally but a personal friend in the category of Femi Peters, Lang Marong, Shyngle Nyass, Lamin Dibba & Dr. Boro Suso.
"I, on behalf of the NEC, extend our condolences to his family, the Chairman of the NBR Regional Executive Committee and Chairman Illiasa Constituency Committee.
Rest in peace Jammeh Jilanka."