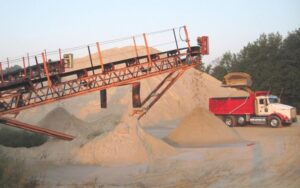 The Minister of Petrolatum and Energy, Hon. Abdoulie Jobe, has said that mining/quarry licenses/permits were being reviewed to ensuring compliance to environmentally acceptable standards.
Hon. Jobe was apparently unprepared for what he saw in Brufut and Tujereng mining sites when he visited the quarries last weekend to assess the environmental impact of the mining activities.
The minister described the damage done to the coastal environments as a result of the mining activities as "massive".
"I have seen in Brufut the massive damage that sand mining for building construction has done to the environment," the energy minister lamented.
"Similar massive damage has been brought to our attention in Tujereng. And prior to my visits, we have issued a stop-notice to the companies to stop until they comply with environmental issues," he told GRTS.