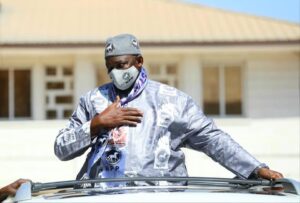 President Adama Barrow has revealed that NPP injected approximately D9m in the Central River Region as campaign funds for the 2021 general elections.
Addressing NPP's CRR regional executives, who recently went to his Mankamang Kunda residence where he's currently holidaying, President Barrow tasked the regional chairman Mawdo Touray to sit around the table with his people to diagnose NPP's problem in the region.
"The money given to CRR for the Presidential election was about D9m in my estimation. Then, if they have any problem there, that's not the problem of the President but themselves. I think it's significant for the regional chairman Mawdo Touray to sit with his people and do some soul-searching,"he stated.
"Summon your people to brainstorm on what exactly has gone wrong despite the party giving you money and all the material resources. Ask yourselves why because we did what we should do yet you cannot bring the results," the President told his audience in a rather frank tone.
Meanwhile, it has yet to be clear to JollofNews what exactly was President's bone of contention but commentators said it has to do with NPP's poor polls showings in the CRR in the last general and legislative elections.