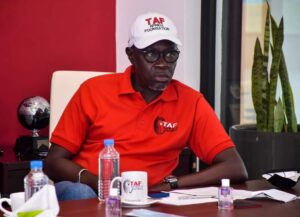 Real estate developer Mustapha Njie has said he's at peace with himself and that his conscience is clear as far as the Brufut land allocation is concerned.
He added that every aggrieved party reserves the right to seek redress through the courts.
Some Brufut natives have been reportedly preparing the grounds for a legal challenge over Mr. Njie's acquisition of vast area of land in the settlement 20 years ago.
But in a telephone conversation with JollofNews on Wednesday, Taf as he's fondly called, said he has no problem with people going to court.
He, however, stressed that the relations between him and Brufut is smooth.
"The Brufut land was allocated to me 20 years ago. In any country, there's a law of the land. If he (Abdou Karim Sanneh) feels that's not right, let him go to the court," Mr. Njie told this medium.
"I currently have an excellent relationship with the people of Brufut and the VDC," he added.
Mr. Njie stressed that the land in question was legally acquired.
"I have a title to it (land). One should go to the government to ask because government is continuity. I'm at peace with myself and my conscience is clear. I have been allocated 1000s of acres in other countries. So, why not my own country," he stated.