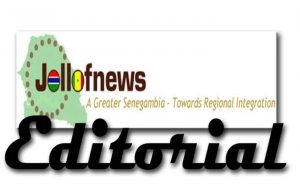 It's quite disheartening and cold-blooded!
It's also ill-advised, unnecessary at the time and callous!
The sights of heavy equipment, ripping through multi-million Dalasi structures were numbing, heart-rending and brain-muddling!
Imagine, with just less than a 48-hour notice, people were ordered to vacate their homes lock, stock and barrel!
And, before they realized anything caterpillars and other heavy materials were deployed, tearing their homes apart.
Aside the trauma, residents have been presented with another line of humanitarian challenge as many were either forced to seek alternative shelters after being rendered homeless overnight.
The apparent inability of the affected residents to pack completely as ordered meant food items have also perished in this senseless operation.
This is unfathomable, un-Gambian and uncalled for!
You don't fight fire with fire, it's oft said.
The sustainable solution to the country's perennial flooding would not be found in knee-jerk reactions like the one we saw in Jabang.
In fact, is it only in Jabang that structures were erected on waterways?
We have other areas in urban Gambia that are also susceptible to flooding and structures built on waterways but why single out Jabang!
Is it that Jabang is where multi-million Dalasi structures were being erected?
This brings to the fore the question of accountability in this senseless destruction in Jabang.
Who ordered the demolitions?
Was it based on expert advise?
And, why now when more people have been added to the 50,000 Gambians currently struggling with housing problem?
We need answers!