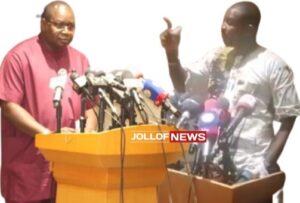 Ebrima G. Sankareh has launched, what was later described, as uncalled for and unprovoked attack against journalist Omar Wally.
However, many said the fury that the Gambia government spokesperson greeted journalist Wally's intervention at a government presser was just "a tributary" of the undercurrent of the utter dislike Sankareh has sent running under the feet of some independent journalists in The Gambia.
Instead of engaging some of these independent journalists on the battlefront of ideas, Sankareh and other senior government officials have resorted to combative means.
Like the former information minister Ebrima Sillah, Ebrima Sankareh has also adopted a hostile attitude towards some independent journalists.
Unlike Sillah though, it has yet to be established whether Sankareh has blocked any journalist asking him tough questions.
But the Gambia government spokesperson has also grown increasingly belligerent in his own way.
And, Mr. Sankareh has now taken his aggression towards some of the media practitioners to different levels and fronts.
He'd been ignoring calls from some journalists.
He was also verbally confrontational with some.
The event though that opened the floodgates of Sankareh's fury against some independent journalists was the so-called Major Press Conference on Banjul Rehabilitation Project held on Thursday at Dawda Kairaba Jawara Conference Centre.
The government spokesperson's ill-treatment of Omar Wally was bullish, unwarranted and unbecoming of a man of his (Sankareh) station.
Press conferences should not be organized to give platform to ruling party supporters to harangue and hector journalists.
There was nothing wrong in Omar drawing the attention of the chair to the need for decorum during the conference.
Why should Sankareh be irked by this?
Why should he accuse Omar of being disrespectful to the chair for only speaking his mind?
And, in fact look at how arrogantly and the bullish fashion he was treating him!
Sankareh should know that even in Uganda, Idi Amin is not God.
Amin was fooling himself when he said "in Uganda, Amin is God!"
Much of muchness is too much!
From allegedly asking people to condescendingly address you to your snubbing of some independent journalists to your fattening ego, you must be reminded of the need to temper things down.
After all, power and position are just ephemeral.