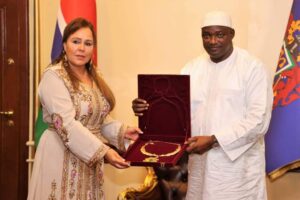 President Adama Barrow has said his administration has committed to the growth of sports since taking office, mentioning Volleyball as one of the games that are growing in popularity due to the attention paid to them.
The President was speaking today during an audience with the President of the African Volleyball Confederation, Bouchra Hajij, at the Statehouse in Banjul.
While extending a warm welcome to Madam Hajij, the President noted that under the leadership of the Minister of Youth and Sports, Honourable Bakary Badjie, The Gambia now actively participates in more sporting activities. He applauded Minister Badjie for his proactiveness and appreciated the achievements of the national beach volleyball team in regional and international sporting competitions.
Speaking after her audience with the President, Madam Bouchra said her discussion with the President centred on Volleyball and her confederation's strategic plan involving the Gambia Volleyball federation to prepare the athletes for the upcoming games and the next Olympic Games in 2024. She assured her board's support for the athletes to reach higher heights in Volleyball.
Issued by State House