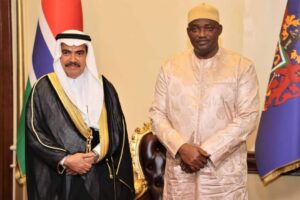 The OIC Summit in Banjul could be overshadowed by a proposed major Islamic conference in the same month as the second largest gathering of world leaders is expected to be held.
As the Gambia government still insists it has the ability to host the summit in December, President Adama Barrow has today received at State House a guest from the Kingdom of Saudi Arabia with whom, he reportedly discussed the proposed major Islamic conference in December.
Meantime, some critics said the the proposed so-called major Islamic conference is an admission of government's incapacity to host OIC summit in December.
"This proposed Islamic conference is just a distraction," one commentator opined.
"Government is gradually coming to the realization that the OIC meeting could not be held under the current state of preparedness," added another commentator.