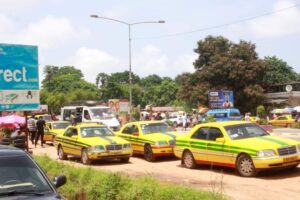 In a bid to prevent the situation from spiraling out of control, the Police have urged drivers to comply with the instructions issued by the Office of Assistant Inspector General of Police (AIG) as they have decided to endorse the September 12 sit-down strike.
In a succinct statement posted Saturday on their Facebook page, the Gambia Police Force unequivocally stated that those who are set to embark on strike should make sure their vehicle is parked at a private location.
The General Transport Union announced Friday a sit-down strike scheduled for Monday 12 to protest against rising fuel prices, high price of toll at the Senegambia bridge, and an unaccounted number of Police checkpoints coupled with expensive mandatory fine on the roads…
The Police went further to warn that "all commercial drivers who wish to continue performing their functions, should not be obstructed."
The country's law enforcement body then assured "those who are not part of the strike" of their commitment to "providing security" to them.
To those who are bent on "breaching the peace," the Police have made it clear that "they will be dealt accordingly."