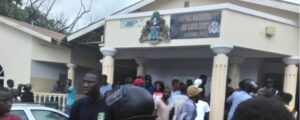 The Kanifing Magistrates' Court heard on Wednesday that it was the ex-general manager of The Point who first threatened to take legal action against the paper before the paper subsequently moved in on him.
The ex-Point general manager Philip Kotey has written a letter to the paper, threatening to seek a compensation payment of D1.5m for any wrongful dismissal.
But according to Baba Hydara, under cross-examination, Mr. Kotey was only suspended but not sacked.
Prosecuting officer interjected at that juncture to ask Baba how he came to learn of the former general manager's suspension.
"We sent him a letter,"he replied.
Earlier, the court, presided over by Principal Magistrate Omar Jabang, heard that Mr. Kotey had written to The Point in which the former GM stated that he felt betrayed by the company after improving its financial health.
In the letter, Mr. Philip also said he'd served the paper for 15 unbroken years and will be compelled to seek a compensation payment of D1.5m if his services were wrongfully terminated.
"He's been working for the company for 11 years not 15 and throughout, he was a GM," Baba dismissed when asked by the prosecuting officer to clarify the former GM's statement.
The prosecuting officer also referred PW1 to Mr. Kotey's claim that he (Kotey) was unable to access his office because he (Baba) and Pap Saine had changed the lock.
"We never did that because the office is an open space and there was no door to access the space he was using," PW1 stated.
The prosecutor also refreshed Baba's memory of the line of the former GM's letter to The Point in which he wrote about his feeling of betrayal.
"I think it's the opposite," responded PW1.
Baba was apparently infuriated by the processes of the funds transfer after the ex-GM lubricated the sale of The Point's land in Old Yundum.
"I sort of gave him an ultimatum to come with me to FIB bank to transfer the sum that was left of the proceeds of the land after knowing what happened," Baba testified.
The case resumes tomorrow.
Meanwhile, prosecutors are seeking to establish IGP's accusations of theft against Mr. Kotey.
He is facing two-count charges of stealing from his employer D2,734,000.00 and a motor vehicle valued at D200,000.