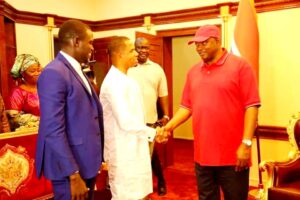 The recent not quite surprising decision of the Citizens Alliance (CA) to form an "alliance" with the ruling National People's Party (NPP) has caused quite a furor on social media, with some people subjecting the CA leader Dr. Ismaila Ceesay to a lot of criticisms and castigation.
Even though, the signs and symptoms of an eventual form of collaboration between the two parties had been quite imminent since the presidential elections when Dr. Ceesay was said to have given behind-the-scenes tacit endorsement of President Adama Barrow, but CA and its leader are quite in order to collaborate with any party of their choice, including the NPP.
Therefore, some of the vitriolic criticisms against CA and Dr. Ceesay are not quite justified.
The question that political analysts need to dwell on should be why now and not the time when most of the other smaller parties and independent candidates were lining up to support President Barrow. Probably, as being speculated by some of his critics, if Dr. Ceesay's aim was to get appointed in the government, that was the best time for him to have done so, and he may have by now been among those that eventually benefitted from such 'alliance'.
For instance, we have seen that the APRC now occupies a big chunk of the Barrow administration, including Speaker and his deputy, High commissioner to South Africa and her deputy, and several other diplomatic and other appointments. We have also seen leaders of the People's Progressive Party (PPP), the National Convention Party (NCP) and the Gambia Alliance for National Unity (GANU), being among those rewarded with important diplomatic appointments. It is therefore very likely that if Dr. Ceesay had made this decision much earlier, he would have been in an important position in government by now.
However, there are also wild speculations that the post of Trade Minister, which is still vacant for almost six months since President Barrow formed his new cabinet, may have been reserved for him, pending the formalization of the 'tying' of the marriage of convenience between the two parties.
Another speculation as to why the 'marriage' is happening now is that it may be a life-saving move by CA in anticipation of its next congress. It is quite a well-known fact that the party had recently been rocked by internal dissention and high-profile resignations, which is likely to affect its very existence as a party.
Also, in about three months' time, all registered political parties are expected to go for congresses and with apparent disarray within the CA, it may not have the financial and other wherewithal to organize a credible congress and taking refuge under the NPP shade may be a wise move to address such concerns. We have seen what similar marriages of convenience have done for such moribund parties like the National Reconciliation Party (NRP), NCP and PPP, some of which even though now virtually exist in name only, but they still managed to "successfully" hold their last congresses, no doubt thanks to NPP members who turned up in large numbers to help legitimize those congresses.
It is therefore possible that CA also had such a life-saving idea in mind when they were forming the "alliance" with the NPP.