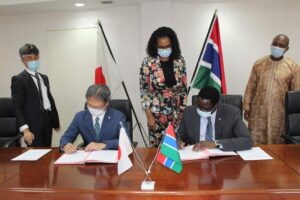 In June this year, the minister of foreign affairs and the Japanese ambassador signed a food aid agreement.
According to officials, the food relief was to come in the form of rice donation and was meant to cushion vulnerable Gambians from the effects of the Covid pandemic.
However, the Gambia government said it would monetize the food aid to fund other sectors of the economy.
The questions that many are now asking is: Has the Japanese rice finally arrived and if so, when?
Answers to these questions will help citizens understand whether the rice had been finally sold off to make money for the government as stated by the foreign ministry.
And if so, how much have so far been made from the sales and which sectors of the economy would be financed from the proceeds?