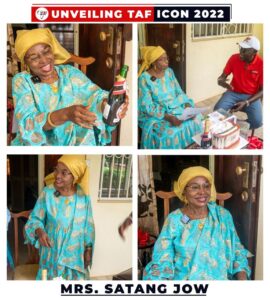 The President of TAF Africa Foundation has announced on Thursday that Madam Satang Jow has been "resoundingly" identified as TAF Icon Awardee 2022.
"This is in line with her distinguished career journey from being an ordinary teacher who rose through the ranks of Head Mistress, Vice Principal, Principal and Minister of Education," said a citation for her identification for the prestigious award.
"It is additionally dedicated to her for being a Matriarch, Philanthropist and Compassionate," it added.
The award will serve as a way of saying Thank You Madam Satang for all her hard work, devotion and enthusiasm for the teaching profession.
The award ceremony will take place in December of this year.
Meanwhile, TAF Icon as one of TAF Africa Foundation's initiatives beams the spotlight on Gambian role models, who have served and continue to serve as sources of inspiration for young Gambians in the stampede of life.