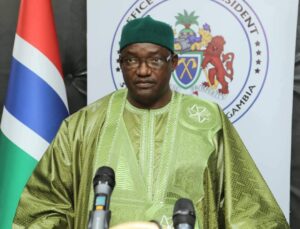 At a time when Gambians expect compassionate, empathetic, sympathetic and steady leadership following the country's traumatic experience of 66 preventable child deaths, President Adama Barrow has once again shown them that he cares little when it comes to their heartaches.
Sadly but killingly true is the fact that Mr. Barrow is preoccupied with other things at No.1 Marina Parade than the matters of the state.
For instance, the Barrow administration was only jolted to transparency about AKI when WHO and the media started giving the full scale of the bloody onslaught on Gambian children.
And, without sustained online pressure, the police would've not constituted an investigative panel.
Sheikh Kebbeh could be also deploying his lethal license again for the importation of other destructive pharmaceutical products to cause further devastations to the country and her population.
But in a more glaring indication of President Barrow's carefree attitude towards the matters of state, Mr. Barrow said of the mass killings of Gambian children: "Fellow Gambians,
Residents of The Gambia,
I must state that the child mortality figure of sixty-six (66) is not at much variance with the recorded data for similar periods in the past".
Is this how a President consoles a grieving nation?