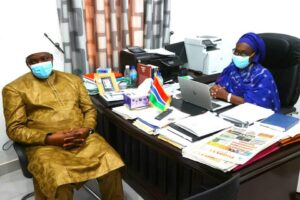 I join Gambians to express my condolences to families of the children whose deaths are associated with Acute Kidney Injuries – AKI, which has risen to 69.
Understandably so, people want answers on the possible causes, the culprits and the desire to ensure that justice is done.
It is not, therefore, suprising for people to have their assumptions, opinions and perspectives on such public concerns.
I am amongst those who believe in people's right to express their opinions, make criticisms in holding public officers accountable. However, in my opinion, it is uncalled for individuals to make assertions against anyone, be it the President, the first family, public officials or private individuals with disrespect, and use of abusive utterances.
While some people think certain utterances are acceptable, for others they are not. Definition of insults and abusive language depends on cultural contexts. For instance, a young person could tell an adult, "you're lying" in one context and it is accepted. While in another context, it is not culturally acceptable for a young person to tell an adult the same.
In my opinion, it is time to call a spade a spade, for no community or country can advance when there are no norms, values and laws guiding public actions.
We are all entitled to our fundamental rights, including the right to freedom of opinion and association. So, if we are not happy with any situation or anyone for that matter, we have the right to voice it out.
Furthermore, we all have responsibility to respect our differences but that does not mean accepting those differences. Therefore, we don't have the right to disrespect or insult people, simply because we disagree with them. Hence, where one's right to express an opinion stops, is where the other person's right to respond begins.
As civilised people we should be guided by norms and values that are entrenched in saying the truth with respect. As the Mandinka saying goes, "kumo moneh yeh tinyang, fonyaa." Therefore, I want to add my voice to those people who believe, we should stop and reflect on democratic values such as freedom of expression and association. They go with responsibility of respect for the rule of law.
In a democracy, people enjoy their rights without fear or favour, just as they respect differences in opinions. Having different views does not mean people should hate each other, abuse their liberty or incite hatred and violence. Civilised people should be able to manage their differences and debate on issues that would advance their society.
I will conclude this opinion piece by stating that some of the utterances directed to individuals that are uncalled for, and we need to redirect our energies into positive approaches to address our challenges to map a better future for our country.