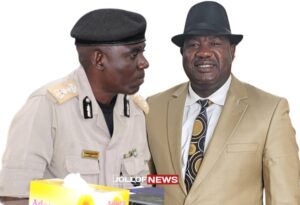 The Gambia Prisons Services (GPS) has sent a letter of appreciation to GACH CEO for reaching out to the penitentiary last month.
"I write to forward GPS most profound gratitude for the valuable timely donation," a letter signed by GPS DG Ansumana Manneh stated.
"The donation is timely, and it will go a long way supporting and improving the living condition of inmates," added the letter.
Late last month, Dr. Abubakary Jawara gave 50 mattresses of 6inches, 25 industry metal wall fans, among others, and according to the prisons boss, the items will augment the existing stock for the exclusive use of inmates.
"Therefore, GPS is most grateful to your strive in providing most needed support and deepest appreciation to your endeavour," added the letter.
"Whilst conveying GPS profound gratitude and sincere appreciation for your support, please accept the assurance of my highest consideration and fraternal esteem," it concluded.