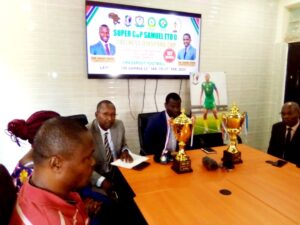 Gambia's Youth and Sports Minister, Bakary Y. Badjie, has okayed Wednesday the upcoming Samuel Eto'o Super Cup scheduled for the beginning of next year.
Plans are in high gear to hold a major event, as the collective ECOWAS Citizens in The Gambia (ECOCIG) is teaming up with Fullness Sports Academy to turn the project into reality.
Minister Badgie expressed his appreciation for the initiative taken by organizers to involve the Youth and Sports Ministry in the much-awaited sports event.
He revealed that the organizers were instrumental in easing their stay in the seaside city of Limbé, South-West Cameroon, as they did well in helping with a lot of logistics.
That is why, he went on, their working relationship is going to continue, adding that this could be the third time they are making best use of their collaboration.
"As far as the ministry is concerned, we will continue to work with you," Badgie assured. "When we work together, we achieve bigger results that are more beneficial, and long-lasting."
Minister Badgie expressed hope that "this great idea, which is at its first edition, could grow and become something bigger, to benefit the country that are involved in the whole project."
He assured that the Ministry will do whatever lies within its power to make sure the initiative become a success.
Eto'o To Make The Trip To Banjul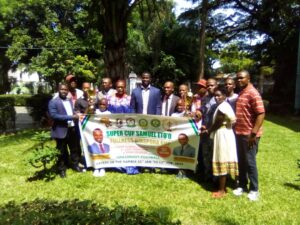 Speaking earlier, ECOCIG President, Michel Pokpaye Koivogui, said Samuel Eto'o will make the trip to Banjul to witness the event.
As the West African subregion by illegal migration, Koivogui made it clear they are going to convey messages geared towards discouraging young people to embark on the perilous journey to Europe.
He deplored the fact that many young people are desperately trying to reach the European citadel, defying the risk to die in Sahara desert or being sold into slavery in Libya.
Taking into consideration that the world is yet to be declared COVID free, ECOCIG President disclosed they are also going to sensitize people to avoid letting their guard down.
"All the communities living in The Gambia will take part in the event," he indicated.
The President of Fullness Sports Academy, Josianne Noëlle Youbougne, spoke about the second trophy to be put in competition, saying it contribute to building peace in the country.
Also speaking, the Co-Founder and Vice-President of Fullness Sports Academy, Georges Bienvenu Kouam, reechoed their commitment to making sure the event become a success.
He described Samuel Eto'o as an exemplary figure for the kids to emulate.
Kouam said, the tournament will provide a platform for the organizers to amplify messages that condemn and discourage age-cheating in African football.
The handing over ceremony was chaired by the Permanent Secretary, Ministry of Youth and Sports, Musa Mbye, who spared no efforts to laud the initiative spearheaded by both organizations.