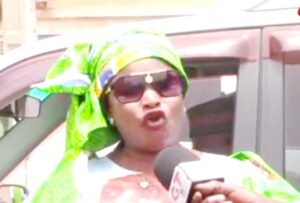 A stalwart of former President Yahya Jammeh's APRC has been using the airwaves in an apparent attempt to prick the national consciousness about the need and urgency for collective action against President Adama Barrow.
In several of her radio interventions, Amie Jatta made passionate appeals to Gambians to put aside their political and tribal differences and band together against President Barrow "for our common good".
Madam Jatta, a regular contributor to King FM Felerango morning show, believed the time has come for citizens to put the country first.
"Let's direct our energies towards the advancement of this country. We can take inspiration from the Senegalese opposition, who united forces for the best interest of their country," she said on Friday as she took to the airwaves again.
Barrow's Ineptitude
Madam Jatta asserted that President Adama is inept and has shown all indications that Gambian under him would not thrive.
"Barrow cannot deliver this country. So, let him go. However, if he refuses let us (opposition parties)unite forces against him for his disastrous failures in the spheres of security, education, health, agriculture among many others," she appealed.