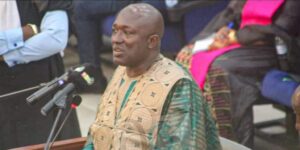 Former Aide-de-camp (ADC) to President Moussa Dadis Camara, Lieutenant Aboubacar Sidiky Diakité aka Toumba, has Monday taken the stand for the second time to shed light on events that have marked the country's political history.
He told the court Moussa Dadis Camara and his co-conspirators were hell bent on shifting the blame on him as the international outcry over the September 28, 2009 massacre was exponentially growing.
Former Junta members are standing trial for the 2009 killings that prompted the Hague-based International Criminal Court (ICC) to launch a probe into the stadium massacre that has left 157 people killed, and more than 1,000 pro-democracy protesters wounded.
Unpacking the Koundara Barracks incident, he said everything started when President Dadis Camara's bodyguard, Joseph Makambo, crossed the Rubicon and arrested his men.
While admitting that the retaliatory measures he took were done in anger, he said he didn't spare time to free the soldiers unlawfully detained.
A situation that triggered an immediate reaction from the President as he gathered members of his inner circle to storm Koundara Barracks.
Upon their arrival, he went on, Dadis jumped off the vehicle, and started unleashing hell on him.
"He even knocked me on the head," he revealed.
The face-off, he said, ended when he took the arm of one of the soldiers under his command.
"I shot Dadis Camara in the head," he told the court while emphasizing that heavy fightings ensued.
A Black Belt in martial arts, Toumba said he took down the fearsome bodyguard Joseph Makambo in a mortal combat.
After Makambo was executed, he said, other members of the garde rapprochée fell into self-preservation as they left the scene and fleeing.
Foromo's Formula
(Betrayal = Taking A Bullet)
Last week, Toumba Diakité started his testimony with resounding revelations on the 'blood pact' they endorsed before the passing of former President Lansana Conté.
In a marathon testimony that lasted nearly two hours, Toumba Diakité dived deep into the peripeties that led to the military takeover that propelled Captain Dadis Camara into the Presidential sphere.
Unveiling their secrets, Toumba said Captain Moussa Dadis Camara took them to Forested Guinea where they have the opportunity to meet with the Fetish priest Foromo.
In a blood-pact like ritual, Toumba further stated that a concoction was prepared by the Fetish priest.
"He asked us to eat it," he said. "We did not hesitate to follow alternately his instructions."
After taking the concoction, Toumba said the Fetish priest warned them: "He who betrays the group will take a bullet."