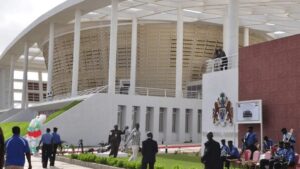 Gambia's lawmaking body is set to convene an extra-ordinary session tomorrow on the Acute Kidney Injury (AKI) crisis after the loss of 70 young lives due to contaminated India-made cough syrups.
A news dispatch issued on Monday by the Clerk of the National Assembly and seen by JollofNews indicates that the third extra-ordinary session of the 2022 legislative year will be held on Wednesday 26th October, 2022.
Tomorrow's meeting comes on the heels of mounting efforts initiated by the Select Committee on Health to shine a light on the chain of responsibility tied to AKI.
The de facto Chief Executive Officer of the National Assembly said the session will "debate over the current National Public Health Emergency regarding the death of at least 69 innocent Gambian Children according to government records."
It could be remembered that the Select Committee on Health had last week an interface with the Minister of Health and Social Welfare, Dr. Ahmadou Lamin Samateh.
In the same vein, the Committee met yesterday the Medicines Control Agency (MCA) and the Pharmacy Council.