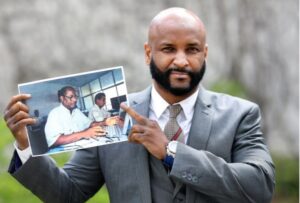 Baba Hydara has faltered in providing the "right" document (Letter of Administration), detailing his partnership with Pap Saine in a newspaper co-founded by his late father and Saine.
The son of the late Deyda Hydara could not today produce the letter of administration, which should detail the partnership agreement between him and Pap Saine.
Baba Hydara on Wednesday produced secondary documents, purportedly containing the transfer of the power of attorney of the late journalist's widow to her son.
Cross-examinations continued today at the Kanifing Magistrates' Court chaired by Principal Magistrate Omar Jabang but the matter was set for resumption in November to give more time to Baba to produce the letter of administration.
Defense counsel Borry L. S Touray sought for the compelling of Baba to provide the aforementioned document.
Though some of the documents produced by Baba were admissible as secondary pieces of evidence, he was "given" another opportunity to comply with the court's decision for him to produce the "right" document(Letter of Administration) to show he's indeed in partnership with Pap Saine.
Meanwhile, The Point newspaper and its former general manager are going to court over allegation of theft.
The case resumes November 8th.