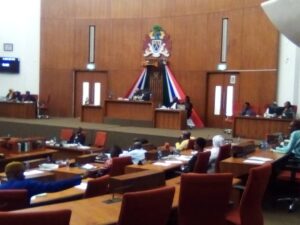 Gambian lawmakers have reiterated their commitment to leave no stone unturned as they passed a motion to investigate the death of 70 children due to contaminated India-made syrups.
Tabling the motion during the third extra-ordinary session of 2022 Legislative year, Minority Leader, Alhagie S. Darboe, reminded National Assembly members about the urgency of the situation.
The tiny West African nation is navigating through difficult times as the Acute Kidney Injury (AKI) has caused the death of 70 young souls, sparking waves of reactions across the globe. The government has so far launched a Police probe and suspended Atlantic Pharmaceuticals, main importer of the incriminated drugs.
Laying down the task assigned to the Select Committee on Health, Refugees, Disaster and Humanitarian Relief, Darboe said in line with their terms of reference (ToR), the said committee will conduct "a full-scale parliamentary inquiry into the matter of the AKI and related deaths with a view of unearthing the truth and circumstance surrounding this unfortunate incident, and to advise the Assembly accordingly."
The Select Committee on Health has successively met with the Minister of Health as well as top officials. Last Monday, the committee had an interaction with Medicines Control Agency (MCA) and the Pharmacy Council.
As stipulated in the motion, the National Assembly member for Brikama North, revealed new details about the dateline for submission of the report or findings on the inquiry, setting out the dateline "on or before 30th November, 2022."
"I believe that our country has been assaulted, this is anaggression against our people from greedy unscrupulous people," Dr. Ahmadou Lamin Samateh told lawmakers in an address he delivered during the special session.
Efforts have been spearheaded by the Ministry to shed light on the AKI crisis that continues to make headlines.
Taking the gloves off, Dr Samateh made it clear that the "manufacturing, distribution and importation of contaminated drugs is criminal, and the government sees it that way."
While acknowledging that due diligence needs to be taken with a view to getting "to the roots of the problem," he revealed the suspension of the licence of the importer.
"The two pharmacy outlets of the importer have been closed and the police have started the investigations," he added.
The Indian authorities, he went on, have been contacted and on their own had taken steps against the manufacturer and this includes closing of the factory.
Dr. Ahmadou Lamin Samateh, said that authorities in India have already "found series of serious breaches at the factory."
As parliamentarians were sparing over the setting up of a Special Committee, the Speaker of the National Assembly, Fabakary Tombong Jatta, urged them to desist from politicizing the AKI crisis. They ultimately agreed to let the Select Committee continue the work it started.
He seized the opportunity to call on National Assembly members to close ranks as daunting challenges are lying ahead.