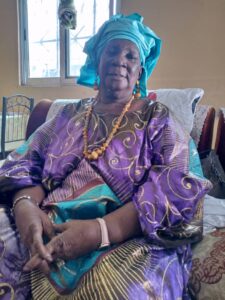 The Gambia's traffic management chief Lamin King Colley was pleasantly surprised this week when the mother of country's chief executive visited him at his Brikama residence.
Commissioner King Colley is responsible for the escort of the President's mother.
He was in Mecca this year to perform the pilgrimage.
As the President's mother was traveling from Banjul to Mankamang Kunda via Brikama, she decided to pop around to congratulate the traffic police chief on fulfilling one of the pillars of Islam.
Commissioner Colley also the Alkalo of his area of Brikama was so excited by the visit of the President's mother that, he requested for the convergence of all the 11 Imams of the area to pray for the wellbeing of the President's mother and the peace of the nation.
The President's mother also seized the opportunity to talk peace and called on Gambians to be each other's keeper.