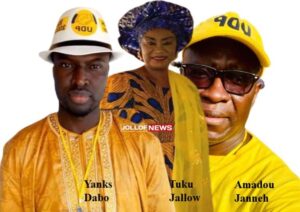 As the political temperature values are expected to increase sharply in The Gambia in the few months to come before the local government elections, the country's largest opposition party has started to experience some political battlefield problems as some of its officials show no sign yet that they'll backpedal on their ambition to run for BAC chair.
Currently, three senior officials of the UDP have their eyes set on the BAC chair and fears are that if the situation is not managed properly, the potential resultant acrimony could lead to vote split.
The NPP will be the only beneficiary of any implosion in the UDP as it could consolidate its grip on the BAC chair in an instance of internal wrangling in the UDP.
Dr. Amadou Scattred Janneh, Madam Tuku Jallow and Lawyer Yakubu Darboe are all political heavyweights in their own right.
All of them are chieftains in their fiefdoms.
In the eastern flank of West Coast Region for example, Yankuba Darboe could be certain to be in control but down south, where many votes come from, Dr. Janneh is apparently in charge.
And, Madam Tuku Jallow also has a power base at the centre of the region.
Tricky, ain't it?
So, the question that readily comes to mind is: Who Will It Be?