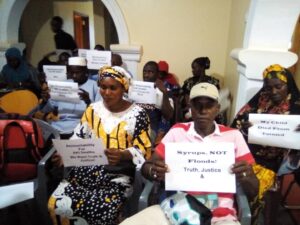 Barely five days after the Medicines Control Agency (MCA) Regulatory Officer, Tijan Jallow, made headlines by disrupting assumptions about Acute Kidney Injury (AKI), victims have Friday lambasted the agency for blaming floods as the source of poisoning.
Grappling with difficult emotions, AKI victims spokesperson, Ebrima E.F.Saidy, told journalists that he nearly desists from coming to the presser, which was held at the victims' center headquarter in Kololi, some 9 km from Banjul.
"I was about to step out, and my child asked me if I am going to bring back his twin brother Adama," he said in a poignant tone.
AKI victims stormed the Kololi-based Center for Victims of Human Rights Violations to express their disappointment over 'health authorities attempt's to change the narrative. They all aligned with the position of World Health Organization (WHO), pointing an accusing finger at four India-made cough syrups that have been contaminated.
Saidy went further to say that he has to return to his room to be able to compose himself while indicating that his son Adama died of AKI after taking the controversial Paracetamol syrop.
The victims'center Chairperson, Sheriff Kijera, who has thrown his weight behind AKI victims, voiced his disappointment over the subterfuges being peddled by MCA to run away from responsibility.
"If MCA should organiize a press conference to WHO, this should be a cause concern for everyone," he said.
While some victims were holding each a piece of paper with messages such as, "My Child Died of Tainted," "Syrups, Not Floods: Truth & Justice," and "Accountability for AKI Deaths: We Want Truth and Justice," others condemned in strong terms the MCA initiative that is geared towards "distorting the facts."
Does MCA Has The Means Of Its Policy?
Amplifying the voices of AKI victims, civil society activist Madi Jobarteh rubbished the claims made by MCA top official about their inability to verify the toxicity of drugs through a testing laboratory.
"Resign if you know there are no resources, no testing lab to execute your mandate,"he voiced out. "If you keep the job, receiving salary, there is problem."
According to Jobarteh, the law is very clear. "Government has no excuse," he added.
He blamed Gambia government, the Ministry of Health, and MCA of having responsibility for the tragic death of dozens of children in the country. But he was quick to add:
"The Indian government is also responsible because it has the duty to ensure that no medicine leave India without the approval of the country's regulatory body."
Not just Gambia government, he went on, should be held accountable and compensate victims, the Indian government has also to be held accountable.
Taking the gloves off, Madi Jobarteh said what MCA is doing is covering Indian authorities, including Maiden Pharmaceuticals Ltd.
"We expect our government to stand up for victims," he remarked. "They should take responsibility."