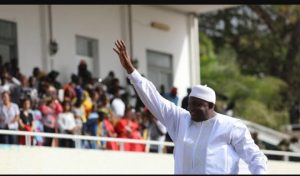 The Gambian President Adama Barrow is later this month expected to make a river crossing to the North Bank Region of the country to begin the 2022 Meet The People Tour amid economic turmoil and waning public trust and confidence in his government.
Meet The People Tour is a constitutional requirement, mandating the President to tour the country to gather ground truths about the socio-economic conditions of the masses.
Mr. Barrow will be crisscrossing The Gambia at an unprecedentedly turbulent economic times.
The tour begins on November 21st and will stretch into December.
Meanwhile, Mr. Barrow will be meeting Gambians at worrying economic times as the rising cost of food is causing ruptures in family budgets.
As security and safety of persons and property continue to be compromised, President Barrow is expected to give an assurance to Gambians as to why they should go to bed and snore.
Due to inadequate resourcing, several lives were lost during Barrow's administrations.
He may be confronted with such and germane issues.
Meanwhile, President Barrow could find it very tough this time around to come face to face with farmers, the majority of whom felt let-down by his government's fertilizer policy of this year.
The Gambia government refused to budge on its decision to increase the price of a bag of fertilizer from D700 to D2000.
However, analysts believe Mr. Barrow could get away with it if he announces an attractive farm-gate price for groundnut this year.
But will the government have funds for it, considering its perennial complaints about money?
Meanwhile, President Barrow has another storm of public anger to weather.
Now, new, tiny graves could be found in several parts of the country.
The little, new graves are those of 70 Gambian children, who died before celebrating their 10th birthday.
When he meets Gambians during his tour, President Barrow is expected to perform better than his last lackluster delivery in which he stirred public anger by dismissing the child deaths as not at "variance" with "available" data for similar periods in the past.
Also, Mr. Barrow will be meeting very disappointed parents, who invested a lot in their children, but they(children) fell on the wayside after a very poor performance in the WAEC.
In a similar but unrelated issue, trainees at the Gambia College in Basse will be happy to grab the opportunity to tell Mr. Barrow about how his government cared less about their water and food stresses.
Jah Oil recently gave them some food items to repel hunger from the campus.
But to really banish the wolf from the door, they say, government must intervene.
They need government's intervention to end the food and water woes at the Basse campus, the trainees cried out.
The Barrow government is also performing badly in convincing Gambians that it's not as corrupt as painted.
President Barrow may be also confronted with questions such as why the country's health sector is still limping.