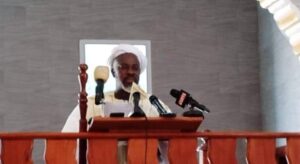 Imam Ba-Kawsu Fofana last week led the Friday congregational prayers at the Presidency thanks to the intervention of Serahule elders,a dependable source hinted JollofNews.
Ba-Kawsu kept thousands of Gambians talking when he was last Friday seen on the pulpit at the State House mosque, delivering the sermon for the first time in 28 years.
But his close associate told JollofNews that there's nothing to be surprised about.
"The Serahule elders have decided that it was about time Ba-Kawsu was also given the opportunity to deliver sermons at the State House mosque," Imam Omar Fofana, a friend to Ba-Kawsu, explained to this medium.
"State House mosque is for the entire Gambia and the Serahule elders have come to this realization and took it upon themselves to see how Ba-Kawsu, too could be involved," he further explained.
Fofana clarified that the Islamic cleric's presence at the Presidency has nothing to do with politics.
"He was outspoken in his sermon and did not,at any time, try to please anyone," he added.
According to Fofana, the Serahule elders have realized that Ba-Kawsu's "knowledge and wise counsels" should know no bounds.
"Everyone needs to benefit from his reservoir of knowledge," he added.