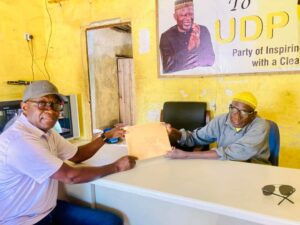 Dr. Amadou Scattred Janneh has today formally declared his intention to run for the BAC chair, Jollofnews can report.
The Gunjur-born US-educated political scientist on Monday filed his application with the UDP Selection Committee at No. 1 Alpha Tafsir Street in Banjul.
In a letter sent to the selection committee outlining his vision for one of the most populous local government areas, Dr. Janneh expressed the conviction "it is the UDP that can bring about reform of the West Coast Region and bring about substantial changes in the lives of the region's residents".
He went on: "It is also my contention that I am qualified, through education, experience and commitment to the UDP. If nominated and then elected, it will be my primary goal to register the type of progress in the region that will be an asset for the party going forward."
Meanwhile, Dr. Janneh has expressed his unconditional support for any candidate endorsed by the UDP to run on its ticket.
The local government elections are meantine scheduled for April next year.