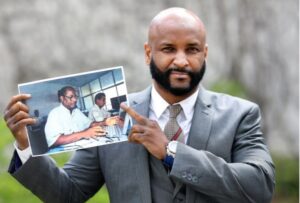 Son of the late late Gambian journalist was on Tuesday told he has no authority over his father's estate.
Baba Hydara had been surfing through documents at his disposal, regarding his father's estate but he was unable to see the Letter Of Administration among them despite been accorded time to find it.
A fortnight ago,Principal Magistrate Omar Jabang of the Kanifing Magistrates' Court offered Mr. Hydara the last opportunity to produce the said document as requested by the defense in a theft trial involving The Point and its former general manager.
The Letter Of Administration is the key determinant of the partnership between Baba Hydara and Pap Saine.
Baba appeared to have lost his tempo immediately Tuesday's hearing began as defense insisted he produce the Letter Of Administration.
Meanwhile at the late Tuesday afternoon's hearing, defense counsel Borry Touray put to Baba Hydara that he has no authority to act on behalf of The Point newspaper in the absence of a Letter of Administration.
However, Baba maintained that he was appointed as a co-publisher by his family and Pap Saine but could not provide anything of evidentiary significance to his claim.
He could not when asked to provide a letter of appointment, if any.