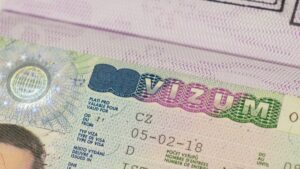 The EU's Commission is to introduce visa restrictions for The Gambia and Senegal, JollofNews can report.
The restrictions will be introduced as a leverage for readmission of illegal migrants, this medium has gathered.
According to reports, the EU's Commission on 9th November 2022, adopted proposals for the introduction of visa measures for passport holders of Senegal and The Gambia.
The decision was made to pile more pressure on both countries to enhance cooperation in the readmission of their citizens illegally staying in any of the EU countries.
The Commission has been quoted as saying the introduction of visa restrictions for Senegambians forms part of "the annual assessment on the implementation of readmission with third countries."
Meanwhile, The Gambia was among countries against which the Commission announced the first visa measures in July of last year following the first assessment in February of the same year, according to which, Gambians would be among those who would be subjected to tighter visa application procedures.
"The measures mean that all applicants have to submit a full set of documentary evidence and that the 15 calendar days processing period as well as the issuing of multiple entry visas will be suspended. The optional visa fee waiver for holders of diplomatic and service passports should also be suspended," the Commission was quoted as saying at the time.
The Commission was, however, reported to have noted that the restrictions did not strip the citizens of countries against which first visa measures were introduced "from the right to apply for a visa, or to receive one".
According to the Commission, in instances where cooperation is not forthcoming from countries to readmit their nationals illegally staying within EU borders, as well as not meeting "their part" to stem illegal migration to the union, EU "can introduce stricter conditions for getting a visa to its territory, for the citizens of the non-cooperating country".
The Commission is reported to have renewed the commitment to enhance cooperation with non-cooperating partners on readmission on November 10.