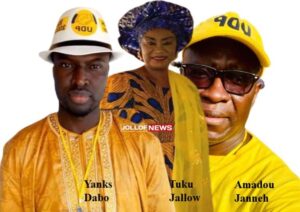 The UDP has a crowded field of applicants to sieve through after 16 members of the Gambia's largest opposition party expressed desire to contest the BAC chairmanship under its ticket, sources hinted JollofNews.
The party will be sure to confront a mammoth challenge if none of the 16 of its members do not set aside their ambition for BAC chairmanship.
Messrs. Jammeh Bojang, Yankuba Dabo, Tuku Jallow, Wassa Janneh, Binta Barry,Talibuya Darbo, Dembo Kambi, Lamin Saho, Abdoulaye Bondi, Ousman Manjang,Terema Dahaba, Jewru Saidy, Abdou Darboe and Dr. Amadou Scattred Janneh all have a vision for West Coast Region and want to actualize it by being at the helm of affairs at BAC, it was revealed.