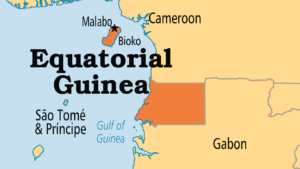 The African Union Commission on Monday deployed an election observation mission to Equatorial Guinea.
The central African nation will hold Presidential, Legislative and Municipal Elections on November 20, 2022.
 The AU commission chairperson Moussa Faki Mahamat has announced the launch of a short-term African Union Election Observation Mission (AUEOM), the AU said in a statement.
The chairperson has appointed Jose Mario Vaz, Former President of Guinea Bissau to lead the mission with 53 members drawn from various AU Member States, agencies, CSOs, and independent experts.
The AUEOM team has been deployed from 13 to 26 November 2022, according to the AU.
Its objectives, the Union says, are to provide an accurate and impartial reporting or assessment of the quality of the 2022 Elections, offer recommendations for improvement of future elections based on the findings; and demonstrate AU's solidarity and support to the election process.
The AUEOM plans to issue its preliminary statement on the electoral process on 22nd November 2022 in Malabo based on its findings.
In the presidential election, President Teodoro Obiang of the ruling Democratic Party of Equatorial Guinea (PDGE) is seeking a sixth term in office.
Running against Obiang are Andres Esono Ondo of the Convergence for Social Democracy party (CPDS) and Buenaventura Monsuy Asumu, who represents the Party of the Democratic Social Coalition.
More than 425,000 voters are registered for the polls out of the 1.4 million population of the country that possesses major oil and gas resources.
(APA)