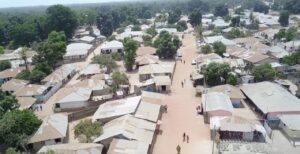 After the CDS and others were told to seize any development on lands they acquired in Gunjur in questionable circumstances, land grabbing in the disputed territory in the southern Gambian town is becoming increasingly concerning.
Following several injuries and death over the territory, an injunction was issued for stay of any development in the area.
A native of Berending Buba Drammeh shot and killed a certain Buba Jammeh of Gunjur following dispute over land in 2019.
Two years later, Buba Drammeh's uncle Ousman Kotu Drammeh was chopped to death by one Lamin Jogu in a dispute over a piece of land in the same territory.
In 2019, youths of Gunjur mobilized in a spontaneous outbursts and outpouring of anger, attacked and burnt down the town's police station.
They then banished the officers to nearby Siffoe for 'dereliction of duty'.
The police were accused of looking the other way whenever reports of land-related attacks were reported to the station.
A handful of Gunjur youth succeeded in entering Berending before the arrival of the military whilst others flattened fruit trees with cutlasses as they attacked Bubba Drammeh's orchard.
But the invasion was shortlived as military trucks and personnel arrived,firing teargas and rubber bullets with women and children running helter skelter in the bushes.
Meanwhile, this medium gathered that Berending has already evacuated the women, children, sick and elderly to the nearby bushes in apparently combat readiness.
Security analysts have identified this Gunjur-Berending frozen land conflict as another national security threat landscape.
Not only that the lands are being sold out from the disputed territory in furtive ways but adverts have also gone up on social media platforms while government pretends as nothing is happening.
The question that many are now asking is: Who will police the disputed territory to avert unforseen circumstances?