Banni village in the North Bank Region of The Gambia remains cut off from its main source of food and fuel, this medium has gathered.
For six years now, Bani Israelites weren't able to access their rice fields as the village remains de-linked from the fields as a result of a collapsing bridge.
The bridge also provided an access to a small island, where villagers collect firewood for household fuel needs.
"The bridge was not accessible for about 6 years now. Government assistance are hard to come by due to so many similar issues across the country," said a Banni native Mamoud Touray as he sent an SOS for the reconstruction of the dilapidated bridge.
He added:"Our people are not letting 6 years obstacles to starve them completely.
"They have utilized closer rice fields in unfavorable locations while solving many of life challenges."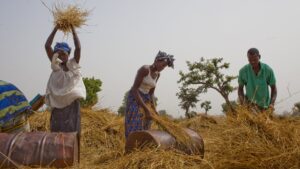 "I have to admit that since the bridge collapsed, some of the newer rice fields are depleting one of my personal favorites jungle of naturally grown fruit trees. I could remember some times ago when we can just walk into the jungle with just drinking water. We have enough food in the jungle to feed us," he reminisced.
"May Allah the Almighty help my people with heavier hands to get a bridge and a great road wide enough for two tractors to ride without a risk," he entreated.