Switzerland beat a vibrant Cameroon in their first group game of the football World Cup in Qatar courtesy of a solitary goal just after half time on Thursday.
However, Breel Embolo, the goal scorer with birth ties to Cameroon raised his hands to acknowledge the reaction of his Swiss teammates but pointedly elected not to join them in celebration.
The 25-year-old was born in Cameroon in 1997 to Cameroonian parents who separated when he was at a very young age.
In 2002 at the age of seven, Embolo and his mother left Cameroon for France where they spent some time before moving to Switzerland.
By that time Embolo's mother had become married to a Swiss and the family was based in Basel.
He became a Swiss citizen in 2014 and has a four-year-old daughter.
Embolo was called to the national team in 2015 after representing his adopted country at under-16, 20 and 21 levels.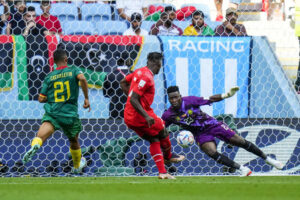 He plays club football with French Ligue 1 side Monaco which he joined last July after spending three years with Germany side Borussia Mönchengladbach.
Cameroon's other Group G opponents are overwhelming World Cup favourites Brazil who won the trophy five times and Serbia.
The tournament, the first ever held in the Middle East began last Sunday and ends with the final on December 18.
(APA)