Papa Idrissa Aïdara and Muzyka Maksym have expressed their resolve to putting mechanisation at the centre stage of agricultural sector on the continent. They both agree that increasing commitment to agriculture constitutes a salutary alternative for Africans.
"This is something that Africa needs right now," Papa Idrissa Aïdara told JollofNews in response to a request for comment.
Both businessmen made headlines on Friday after unveiling a prototype of a groundnut separating machine they graciously offered to the Gambian leader. They are pushing ahead with plans to making sure the machine will be at farmers' access.
He disclosed to JollofNews that they studied together in China, started working there. But they later realized that they can play a key role in improving agriculture in Africa.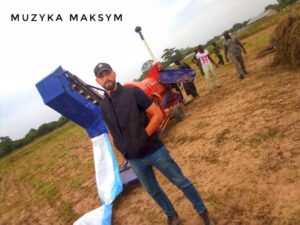 "We decided to bring this knowledge and technology back to Africa," he said.
He further stated that they are currently carrying out similar projects in Guinea – Bissau, Senegal and Guinea.
This machine, he said, is just the first step of the process, as they are planning to come up with other components that would help to process the peanut into various products.
For his co-partner Muzyka Maksym, the machine will ease labour shortage in farming and speed up the process of separating peanuts from plants.
According to him, agricultural development highly depends on the mechanisation process.