President Adama Barrow's nationwide tour came close to its climax on Saturday as the Gambian leader reiterated his support for women's entrepreneurship. In Upper River Region (URR), he announced that up to 50 women will receive Women Enterprise Fund totaling D4 million.
While acknowledging the role of women's groups in spearheading sustained and progressive development, Barrow made it clear that government provided in its entirety the D17 million that helped establish the fund.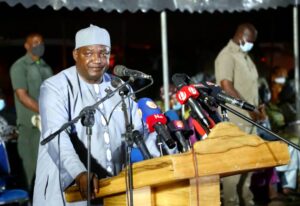 Over these past months, the Ministry of Gender, Children and Social Welfare has been on the frontlines, paving the way for a national gender mainstreaming strategy. Thousands of small and medium scale enterprises manned by women are being targeted with a the view to turning women empowerment into reality.
Amid a rousing welcome in Kantora, President Barrow said the over D1 million presented during the meeting are destined to 20 women groups in Kantora and Tumana.
Barrow recently outlined his decision to scale up the Women Enterprise Fund, which is described by many observers as the "new dawn for women entrepreneurs."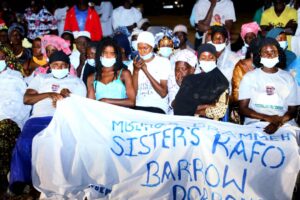 In Mankamangkunda, President Barrow unveiled a massive plan to bring electricity to the doorsteps of people living in Jimara and Basse. He promised that the electrication project will take shape in a near future.
Contacted by Jollofnews, some women's groups members expressed satifacttion at the President's gesture, and promised they will do their level best to live up to expectations.