President Adama Barrow has laid to rest rumours Basse Area Council transformed the Samba Jouma Bridge to a toll bridge, imposing exorbitant charges on vehicle owners.
Two weeks ago, the Chairman of Basse Area Council Foday Danjo released an audio in which he rubbished a report by a France-based Gambian that his council has been receiving money from drivers for crossing the bridge.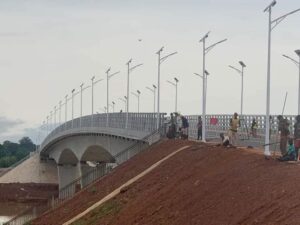 However, as he addressed people from the Wuli and Sandu parts of URR on his countrywide tour, the Gambian leader urged drivers to show compliance with the bridge's toll fees to enable his government generate revenue.
Meanwhile until his admission last week of the introduction of fees at the Samba Jouma Bridge, no official announcement has been made regarding the toll fees.