President Adama Barrow, received Reporters Without Borders (RSF) delegation, on Monday, November 28th, at his residence in Mankamangkunda, URR. The delegation, led by renowned Gambian journalist Mr Pap Saine, the Dean of RSF in the sub-region, had an hour-long meeting with the President to discuss issues and challenges of Journalism.
President Barrow assured the delegation of his administration's commitment to ensuring that The Gambia attains international standards and recommendations for freedom of the press and journalists in the country. He informed the team that the legal reforms would include media laws, adding that media professionalism goes with training and capacity building to fulfil the required responsibilities and Independence.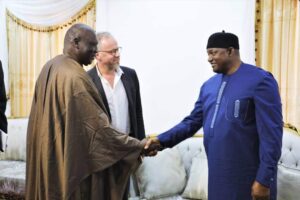 Following their meeting with the President, the Secretary General of RSF, Mr Christopher Deloire, commended the President and the Government of The Gambia for the impressive record in the world press freedom index over the past five years, which ranked The Gambia 8th in Africa on the 2022 index. He added that the government ensures the freedom of the press and journalists in the country, contrary to what used to obtain in the previous regime.
Mr Deloire expressed that the country should not be complacent and recommended improving press freedom, such as amending the existing draconian laws.
Additionally, he said the team also held discussions with the President on issues concerning the rights and duties of journalists and equally made proposals on how the RSF can support the government's future efforts to promote the social functions of journalism, which he said ''can be key in all aspects of development for the country''.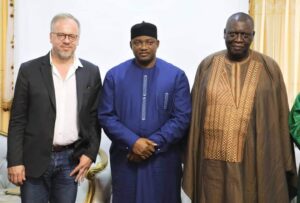 The delegation also included Mr Sadibou Marone, Regional Director of RSF. RSF is an international non-government organisation that promotes and safeguards the freedom to be informed and inform others worldwide.