As water poverty deepens in the Upper River Region of The Gambia, the country's minister of water resources has made an undertaking for the sinking of more than 20 boreholes in the region.
Several communities in the upper reaches of The Gambia are grappling with water stress but Hon. Musa Drammeh promised the people of URR to optimistically look forward to water interventions to be made by his ministry in 2023.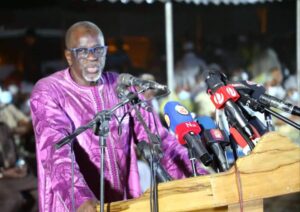 He told meetings in the region that before 2024 arrives, many communities will "immensely" benefit from his ministry's proposed water projects.
"About 23 boreholes will be sunk across the region," the water resources minister told the water-yearning people of the URR during President Barrow's tour of the region as part of his rendezvous with the people.