The Mayor of Banjul Rohey Malick Lowe-Saidykhan did not only visit school children in Banjul on Thursday but she also dressed like them.
The hard-working mayor captured the admiration and love of pupils in schools across the capital as she appeared in school uniform with school bag strapped on her back.
She's currently spearheading a campaign in The Gambia dubbed Back to School in her capacity as the President of REFELA AFRICA.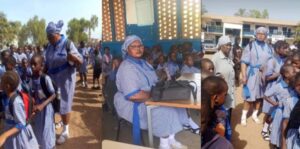 The initiative is being implemented in partnership with UCLG.
Meanwhile, after having immense fun from her company at their level, Madame Lowe-Saidykhan also gave the hundreds of students school bags, pens, pencils and other gifts.