The Gambian leader wrapped up Wednesday the first phase of the 2022 'Meet The People Tour' with a stop at Faraba Banta Campus, University of The Gambia (UTG) in West Coast Region (WCR). The on-site visit was used by President Barrow to interact with engineers working on the mammoth undertaking which is expected to create a major shift in the higher education sector.
Speaking to journalists shortly after touring the Faculty of Arts and Science, Barrow said it is a project that would make a big difference as far as the UTG is concerned.
Scattered across 80 ha of land, the UTG Faraba Banta campus is comprised of state-of-the-art faculty buildings, accomodation facilities for students and staff, administrative and socio-cultural buildings etc.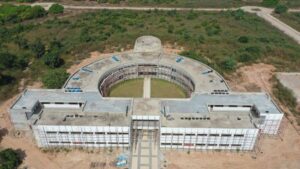 "This is first class infrastructure!" he exclaimed as he reaffirmed his government commitment to investing in human capital. "This is the way we are thinking and this is part of our National Development Plan (NDP).
The tiny West African has been making giant strides in higher education. As more and more students are getting enrolled, Gambian authorities have laid out the necessary steps geared towards helping learners to carve out a career path in life.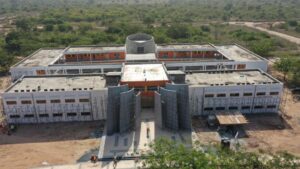 "We help people graduate in the country, build capacity and move forward. That is why we've hired former lecturer and Deputy-Vice Chancellor to be our Minister of Higher Education," President said.
As UTG Faraba Banta campus is gradually taking shape, the Gambian leader clearly stated that they are exploring ways to inaugurate the first part of the project before end of year.
Development partners injected more than $50 million dollars in Faraba Banta campus project, and hopes are high that the academic institution will inexorably address the challenges the country is faced with.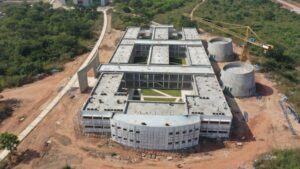 President Barrow further stated that the second part of the project will be launched in a near future.
"We've secured all the funding," he assured with a tone of satisfaction. "We are happy that we are on the verge of finishing the new site for UTG."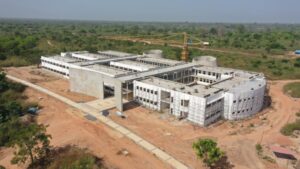 He seized the opportunity to call on the media to put the spotlight on the Faraba Banta university project in order to open the mind of Gambians to the sense of taking ownership of an institution that is set to boost research outputs and academic skills.