The Gambia has signed on Friday the African Union (AU) Convention on Cybersecurity and Data Protection during a ceremony held at the continental body headquarter in Addis Ababa, Ethiopia. The government's move comes barely two weeks after the central bank was targeted by hackers in an unprecedented cyber attack.
"It is a step in the right direction," National Assembly Member for Upper Saloum, Alhagie Mbowe, told JollofNews in an exclusive interview.
The Convention provides a normative framework that aims to address a wide range of security issues, including the non-existence of appropriate legislation that can "protect consumers, intellectual property rights, personal data and information systems."
Mbowe confided to this medium that Gambia's Minister for Communication and Digital Economy, Ousman Bah, appended his signature to the document on behalf of the tiny West African nation. He then added that Gambia plenipotentiary to Ethiopia, First Secretary and some members of Parliament graced the occasion.
"Now the treaty will be brought to the National Assembly for ratification in due course," he said while expressing hope that lawmakers will throw their weight behind government decision to sign the AU treaty on cybersecurity and data protection.
"I think this could the basis for Gambia to develop laws which have the potential to disrupt and defeat cyber criminals. protect the citizens against cyber threats and fight cybercrime.
As social media has become an important part of people's life, the Upper Saloum lawmaker expressed the urgent need to protect Gambians from cyber threats.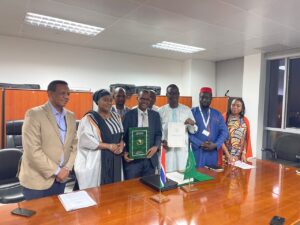 Under the preamble of the convention, the continental bloc said it is "concerned by the urgent need to establish a mechanism to address the dangers and risks deriving from the use of electronic data and individual records, with a view to respecting privacy and freedoms while enhancing the promotion and development of ICTs in Member States of the African Union."
According to him, the ratification of the AU convention will inexorably have an impact on GSM companies, the banking sector, health facilities as they collect a huge amount of information about Gambians on daily basis.
Mbowe, who previously worked for one of the country's renowned banking institutions, assured that banks are making a lot of efforts to protect the data they collect from their customers.