The former head of the Guinean military junta on Monday (December 5) has successfully pleaded for his trial over a mass killing 13 years ago to be deferred due to personal health concerns.
The trial continues at the special court in Conakry.
After the hearings of Aboubacar Sidiki Diakité, nicknamed "Toumba," Moussa Thiégboro Camara and Claude Pivi, among the eleven former military and government officials accused, it was the turn of Captain Moussa Dadis Camara on Monday, December 5.
But the former head of the military junta in Guinea (2008 – 2009) did not last long at the dock, having managed to convince the president of the court, Ibrahima Sory Tounkara, to postpone the hearing until next Monday.
"I want to tell you, Mr. President, with all due respect…, I have already informed the director of the prison guard, the chief doctor of the prison guard, for a very long time, I have been suffering. I have already informed the lawyers. With all due respect, if indeed you oblige me, Mr. President, I am not above the law. (…) But in all sincerity, I don't feel absolutely (well) at the moment," he said without specifying the nature of his suffering or the timeframe for his recovery.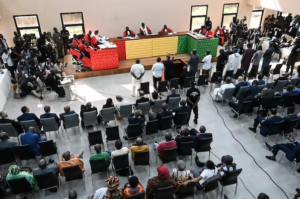 "If for more than thirteen years I have fought body and soul, until I am before your august court, whatever the days to come, by the grace of God, I will be there before your court, before the eminent magistrates to deliver my part of the truth. But telling you one, two or three days, I am not a man who likes to lie, I simply want to tell you Mr. President, once I recover, I will be even more eager, in all sincerity to come and answer the questions of the court", added Moussa Dadis Camara.
 After this plea, judge Ibrahima Sory Tounkara told him that the court has been obliged to suspend the proceedings if his health did not allow him to attend.
The president of the court therefore decided to postpone the hearing until 12 December 2022.
Head of the Guinean junta from 23 December 2008 to 3 December 2009, Captain Moussa Dadis Camara has been in detention since his return to Guinea a little over two months ago, on the eve of the opening of the trial.
He is being held in Coronthie, in the capital Conakry.
(APA)