In wake of the arrest and subsequent of Kotu Senior Secondary School teacher Lamin Sillah, the President of the Gambia Bar Association (GBA) has added his voice to the chorus of recriminations.
"As far as the security sector reform is concerned, a lot more needs to be done to ensure a change in the culture within the police, particularly the Police Intervention Unit (PIU)," he told JollofNews in response to a request for comment sent via the social messaging platform WhatsApp.
Lamin Sillah was manhandled last Friday after he tried to call the attention of some police officers on the need to observe basic principles as they were in pursuit of a student inside the school.
"Policing in a democracy requires respect for the rights of detainees and restraint from the use of excessive/unreasonable force against civilians," the GBA President added.
The incident, which continues to make headlines, has provoked the ire of officials of Gambia Teacher's Union (GTU). They issued a statement, condemning the way the teacher was treated, and promised this will "not go unchecked."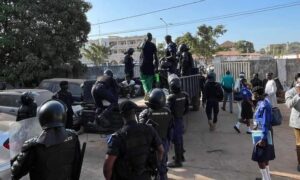 Meanwhile, in a missive addressed last Tuesday to their line ministry, the administration of Kotu SSS condemned in strong terms what they called "ill-guided actions of the PIU."
"As an administration, we expressed our heartfelt concern about the whole issue and duly demand the authorities to take the necessary measures to ensure that such is a thing of the past," the administration said in a letter seen by JollofNews.
Kotu SSS decried the complete disregard of the administration by PIU officers and deplored how they instilled "fear in young children," citing the who was pursued by the PIU.
"We must remind ourselves of the way and manner our security officers deal with issues in the previous regime – initially, the case of the April students victimized by the security forces."
The said letter was copied to various institutions, including the Permanent Secretary, Ministry of Basic and Secondary Education, the National Human Rights Commission (NHRC), the Inspector General of Police, the National Assembly Select Committee on Human Rights, among others.