A senior State counsel at Gambia's Ministry of Justice, Aji Adam Ceesay, revealed that Thursday that US district court has ordered the social messaging platform Facebook to cooperate with Gambia, and turn over a treasure trove of evidences against Myanmar Junta.
"In the course of time, we were able to gather evidences and information," she said during an event organised by the European Union, Alliance Franco-Gambienne and Amnesty International to celebrate International Human Rights Day 2022 scheduled for December 10.
After Gambia laid out the case for Rohingyas, Myanmar was given nine months to come up with a counter-memorial, pleading their case. The deadline is set for April 2023. However, reports coming out from one of the most hermetic countries still indicate ongoing human rights violations meted out on the Muslim ethnic minority.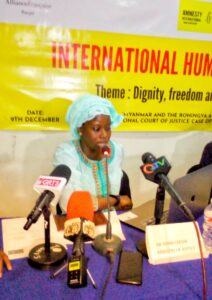 "We took Facebook to court as people living in Myanmar were posting what was happening on social media. All these evidences were online, and Facebook decided to take all those things off their platform," she said while indicating that the matter was taken up with a US district court.
On November 11, 2019, the tiny West African nation filed before the Hague-based International Court of Justice (ICJ), making it very clear that crimes against Rohingyas in Raskhine State are blatant violation of Convention on the Prevention and Punishment of the Crime of Genocide.
State counsel Ceesay further confided to JollofNews that "in gathering facts, The Gambia wanted evidence from Facebook but the tech giant refused to provide it. The Gambia took the matter to the Court in the USA which ruled in our favour, ordering the social messaging platform to provide the evidence."
Gambia, A Human Rights Champion
In light of the efforts spearheaded by Gambian authorities in order to get justice for the Rohingyas, the National Human Rights Commission Chairperson, Emmanuel Joof, said the move taken by government has not surprised many people.
Apart from the hiatus left by the Jammeh regime, he pointed out the role played by Gambia's first President Sir Dawda Kairaba Jawara who has been a human rights champion.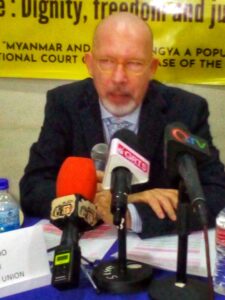 According to him, President Jawara did not hesitate in 1977 to take a strong stand against the human rights abuses committed by Idy Amin Dada in Uganda. This provoked the ire of the Ugandan dictator, who went ahead to arrest Gambian traders in retaliation.
Joof commended President Adama Barrow for taking this stride with the view to putting the plight of Rohingyas on the spotlight.
"Defending human rights is not only showing solidarity with victims but it is about justice.," he voiced out.
Ambassador Corrado PAMPALONI, Head of European Union (EU) Délégation to Gambia, said in Myanmar, a majority group led by a military Junta, continues carrying out acts of genocide against Muslim minority.
"A lot crimes against humanity have been committed," he said.
He deplored the ongoing violations of human rights, saying that 100 journalists got killed in Myanmar last year as the number of Rohingya victims continue to be counted in thousands.
As more and more Rohingya refugees continue to flood into Bangladesh, the EU plenipotentiary clearly stated that religion is part of human rights and needs to be upheld.
The EU, he said, injected more than 340 millions dollars to help the Rohingyas.
Amnesty international – Gambia representative, Muhammed Hydara, expressed similar sentiments.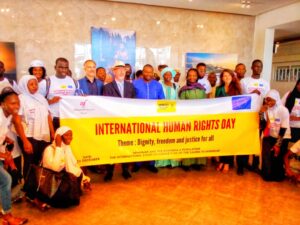 He then lifted a corner on the tragedy Rohingyas are going through, adding that as of 2017, over 700,000 people refugees were scattered across refugee camps in Bangladesh.