When President Adama Barrow visited New Jeshwang sometime last year, there were explosions of joy and excitement as the visit was seen by many residents as an indication of good things to come.
Since independence, New Jeshwang never had a paved or tarred road.
Few kilometers outside the Gambian capital, the community has also been conscripted to the frontline of climate change-induced habitat problem.
Aside the climate change-triggered and urbanization-generated housing shortage, parts of the community have literally gone under swamps with access roads de-linked by stagnant water.
Malaria is another concern of huge proportion for the residents as they are forced to struggle with residual rain water stagnated in various parts of the community rainy season in, rainy season out.
Meanwhile, New Jeshwang is also presented a new line of challenge.
Nearly 100 Madrassa students, hundreds of people and businesses are at a high risk of being uprooted.
After living in this part of New Jeshwang for decades now, some residents are now going to find new homes if the Gambia government proceeds with its decision of bringing down their homes.
Livelihoods will be also destroyed in the proposed demolitions as shops and saloons have all be earmarked for removal.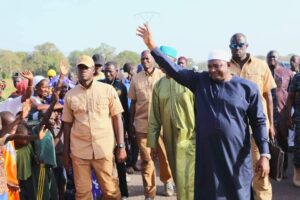 When Mr. Barrow went to Ebo Town last year, excited men, women, youth, children and even frail-looking, old women poured onto the streets to enthusiastically welcome him.
"He received a rapturous welcome because we believed his visit will bring us some form of development,"explained Abdou Rahman Jarju.
Jarju, like hundreds of people along his road of New Jeshwang, will be uprooted from their homes if the Physical Planning Department goes ahead with its decision to avoid lampposts and a mosque at the other side of the road and carve more into their compounds.
"This is unthinkable. How can you demolish structures on the other side of the road and leave the other end untouched," one of the compound owners told JollofNews.
Earlier, the Physical Planning Department earmarked structures on both sides of the road earmarked for construction as part of the OIC roads but it backpedalled.
"They (Physical Planning) came back to say they'll now demolish structures on only one side of the road. We saw no problem with their initial plan of carving out only 1.4m on all sides. But if they concentrate the demolition on only one part, hundreds of residents would be displaced," explained another resident.
According to some residents the mosque, which is standing on the road, is an afterthought.
"It was never a mosque as such but some people decided to expand it to such that it took great part of the road. New Jeshwang Central Mosque with huge capacity for worshippers is just a stone's throw," one resident told this medium.
The Physical Planning Department's decision to avoid the mosque and lampposts did not make any sense to many residents.
The timing is of another huge problem as families were told to demolish their structures earmarked for demolition within 14 days or government will move in at their own expense.