The freshly-elected Campaign Manager of the UDP has asked President Adama Barrow to vacate the State House, signalling an intensification of UDP's campaign to oust Mr. Barrow through the marble box.
"President Barrow, the time has come. Let him descend," Sabally stressed shortly after his endorsement as the Gambia's main opposition new campaign manager.
Meanwhile, many observers believe the Barrow administration should brace up for a rougher ride in the months and years to come following Sabally's ascension through the UDP ladder.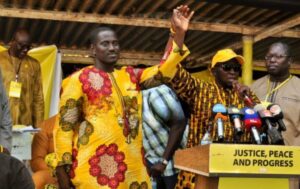 Since joining the party in 2019, he remained steadfast in turning the pressure cooker on government, regarding its handling of the economy, security and other governance failings.