UDP's Falang Sonko has asserted that considering the string of human rights violations perpetrated against Gambians by Senegalese forces, he's convinced the Senegalese has the audacity to enter The Gambia and cause mayhem and that they'll go unpunished.
The killings, maiming, imprisonment and humiliation of Gambians by Senegalese security forces have convinced Mr. Sonko that Gambian lives do not matter to the Senegalese security.
The unresolved rape of a Gambian minor by a Senegalese diplomat has also convinced the UDP official that Gambians are being treated as lesser human to Senegalese.
"They can overrun the country, kill and humiliate our people and there'll be no consequences," the UDP official told King FM Felerango morning show on Tuesday.
To Falang, Senegalese have been so emboldened by their previous unpunished tormenting of Gambians that they are capable of doing more.
Falang could not also under the "haughtiness" with which Senegalese now carry themselves in The Gambia.
"They behave like they own the Senegambia Bridge. The Senegalese government did not spend a butut on the construction of the bridge as revealed," he pointed out.
"So, why behave like they own the bridge," he asked.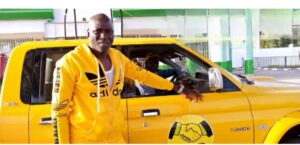 But the firebrand politician didn't look further for an answer as according to him, President Barrow has no problem with ceding The Gambia to Senegal.
"The bridge was opened for business even before the construction works were finished just to coincide with the Senegalese presidential election. This is why the MP(Oumar Ceesay Souvane) said in the Senegalese Parliament that they were sending messages of congratulations to Macky Sall for constructing the bridge," he fumed.
Mr. Sonko could not also understand why a Gambian national should be arrested for fishing in Senegalese waters when Gambia's territorial waters is being dominated by Senegalese fishermen.
Meanwhile, from transport to trade and fishing, many believe Dakar stands to gain more in those sectors when it comes to its relations with Banjul.
Gambian commercial vehicles are being barred by Senegalese drivers from plying Senegalese roads,products from The Gambia continue to be confiscated by Senegalese border authorities and Gambian fishermen barred from Senegalese waters. Gambian travellers in Senegal continue to be subjected to gruelling checkpoint experiences such as bribery among many other imbalances in the Gambia-Senegal relations.